The City Series powered by Coors Light
Here we are entering the fourth year of the City Series presented by Coors Light. The City Series was created to ensure "Fun Fore Everyone" whether you are a beginner, enjoy golf with your family, or are a more competitive player. Not only do these unique events continue to grow in popularity each year, but this season we have tweaked these exciting events that we hope you'll enjoy.
The first new event will be the first ever Par 3 Championship at Kuehn Park. We have partnered with First Class Dental Care to create a nice prize purse for whoever brushes up on their irons & shows off their squeaky clean short game. As a solo event the winners will rack up some serious Mayor's Cup Points, so you won't want to miss this event! We also added a new Family Foresome Fun Scramble to the calendar this season. Our friends at Sioux Falls Audiology Associates would like to invite all families to take part in this fun-filled event at Elmwood! Be sure to join us for our two 9-hole Adult/Junior tournaments as well.
The 2022 City Series tees off the season on May 14th with one of our most popular events, the Asics Scramble, formerly known as the Cleveland/Srixon Scramble. This year each player will receive their choice of a pair of Asics golf shoes or a Cleveland RTX wedge with their entry. This event will also be a Mayor's Cup qualifier along with the Miller Lite Ultimate 2-Person Challenge, a 27-hole event that showcases three different formats & all three courses at Elmwood. The last Mayor's Cup qualifier on the City Series calendar will be the 2022 City Championship brought to you by Kinesio Care Center. Last year Jack Lundin hoisted the championship belt in a playoff thriller. For more on the Mayor's Cup & how you can qualify visit the City Series page under the Events tab at SiouxFallsGolf.com.
If you are looking for something more laid back on the links, look no further! Once again Wildflower Construction & The Event Company have teamed up to put on three Couples Themed Nights at Prairie Green. These fill very fast & include everything you need to have a good time with your significant other. If you're looking for a more competitive event with your main squeeze then don't miss out on our Couples Championship on August 27th & 28th.
Our two new night events in 2021 will be back & better than ever this year thanks to Harris Law & Co. The Night On the East Nine glow ball event sold out very fast & was a blast as soon as the sun went down! If you missed the inaugural Fast 5 Under the Lights, well you'll have two chances to experience this one-of-a-kind event. Once again we will be lighting up the Fast 5 at Elmwood with live music from Caskmates & a beer garden to create the party of the summer! This year's Fast 5 Under the Lights event will be in conjunction with the Sanford International, so be sure to stop by for the Friday & Saturday night after party!
Our City Series motto is "Fun Fore Everyone" & we hope to achieve that with the help from our sponsors & support from our amazing golf community. Remember this is your city, these are your courses, & together WE ARE GOLF!
The City Series 2023 Calendar
2023 SFG Match Play Tournament Board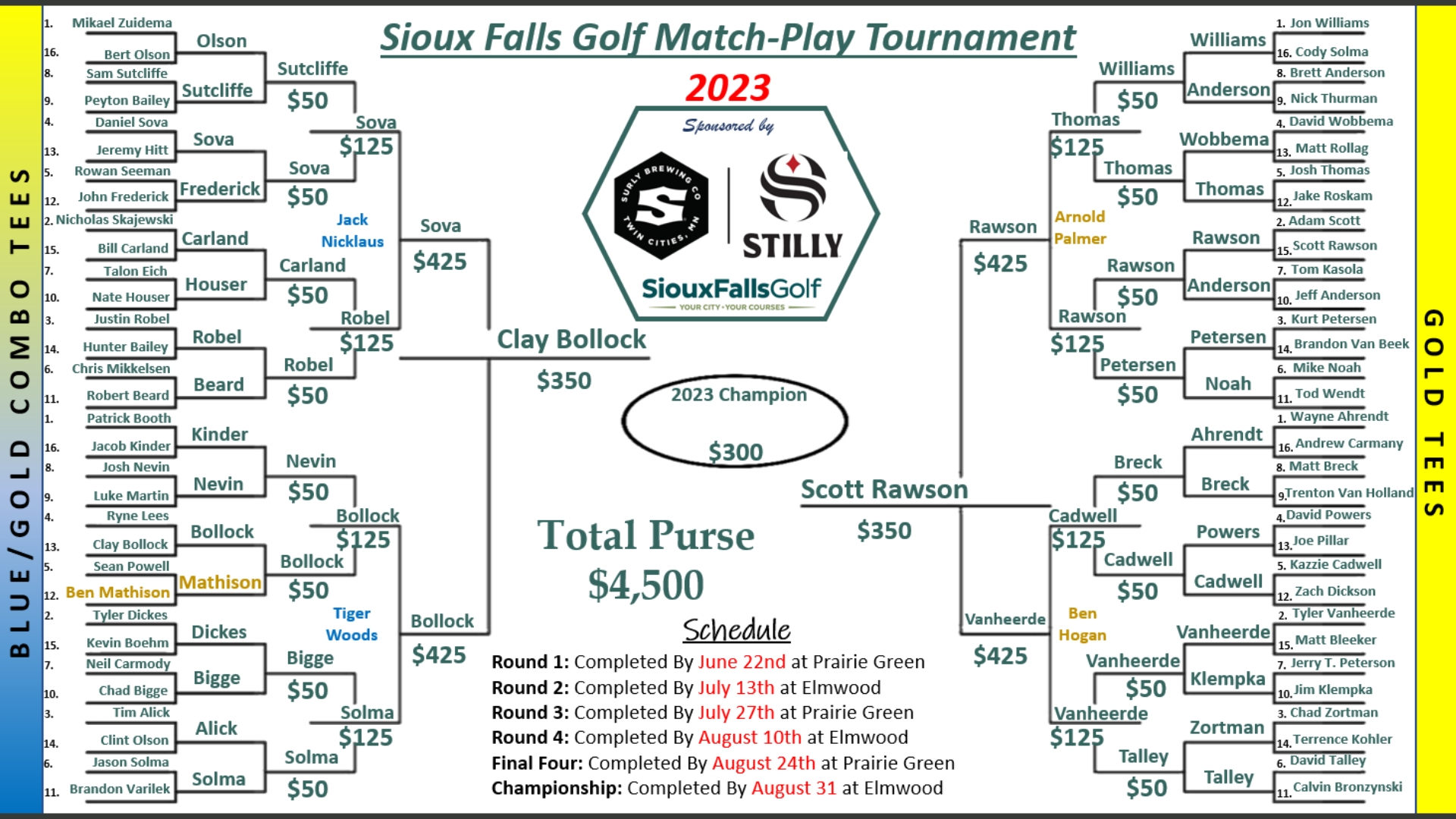 2023 Mayors Cup Standings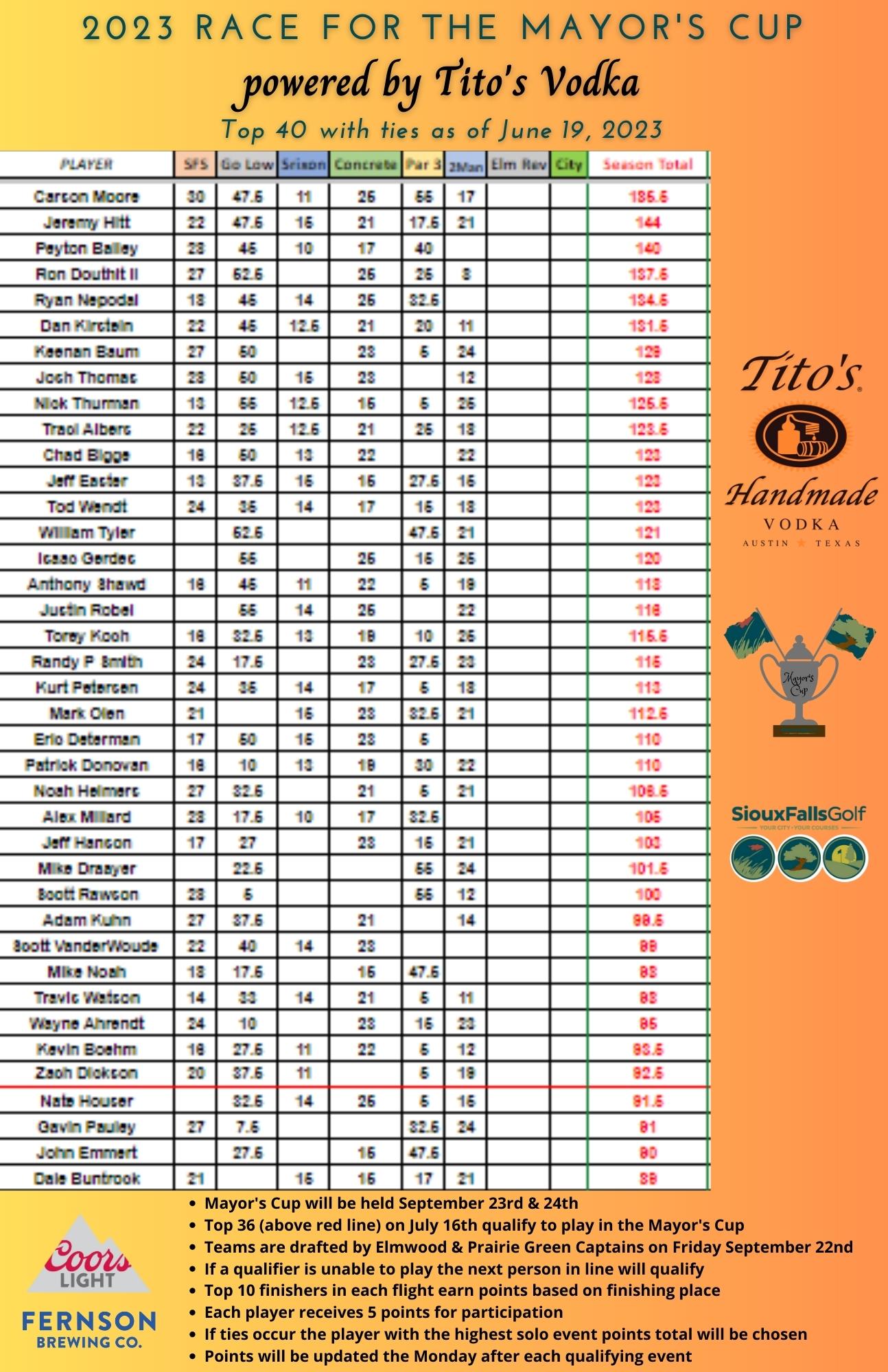 2023 Event Calendar
SFGT Schedule 2023
2022 City Champions
2022 Match Play Champion - Ben Mathison
2022 City Champion - Jacob Otta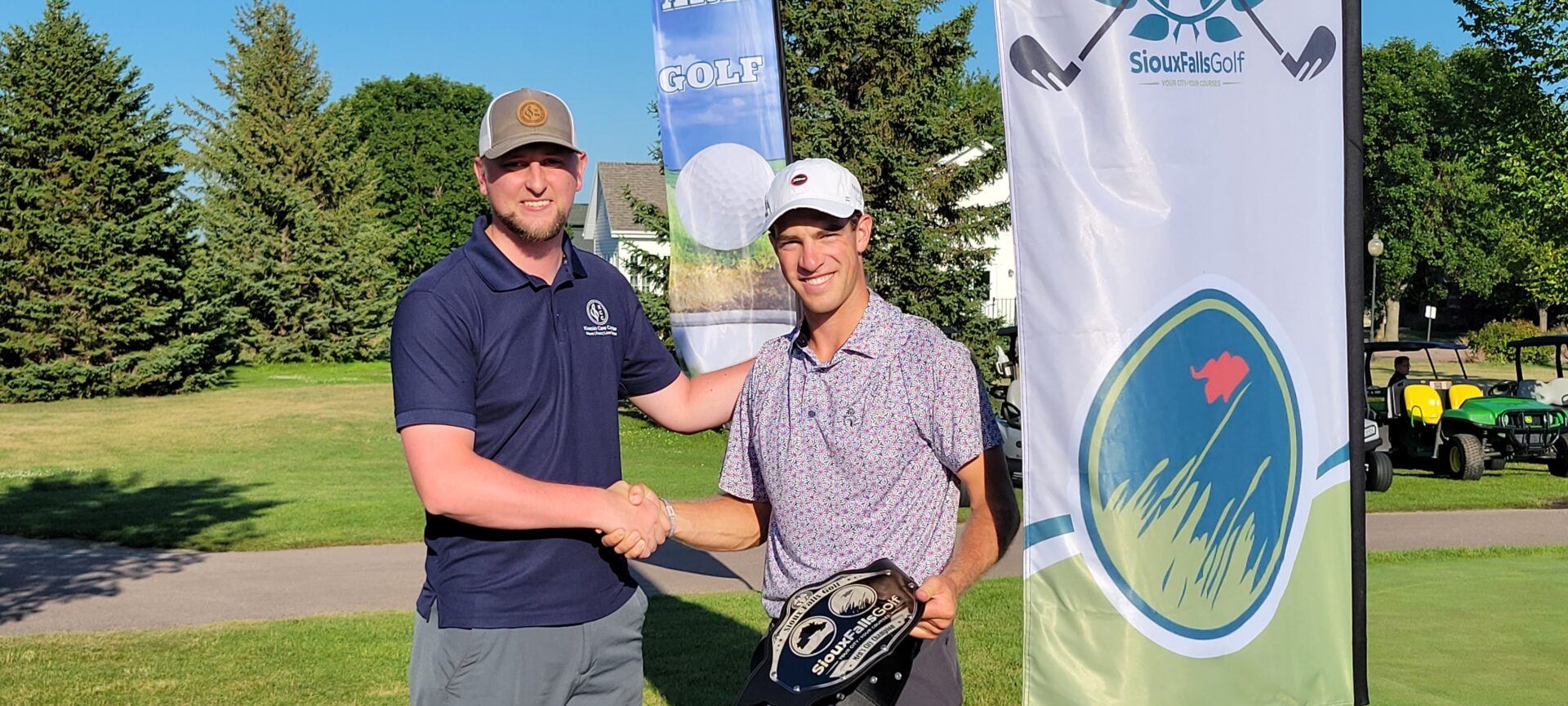 2021 Mayors Cup Champions
Congratulations Team Prairie Green - 2021 Mayor's Cup Champions
Team Members: Max Barnett Jr., Max Barnett Sr., Blaine Brakke, Jeremy Hitt, Anthony Shawd, Josh Thomas, Zach Dickson, Patrick Donovan, Kirk Rallis, Chris Reynolds, Chad Zortman, Matt Peterson, Colton Peterson, Alex Pyper, Dan Kirstein, Jeff Easter, Peyton Bailey, Eric Determan
Captained by Chris Lane, Assistant Captained by Paul Drazba
Special thanks to Paul TenHaken, Sioux Falls Mayor, for presenting the Mayor's Cup.
The Bryce Rockafellow Memorial Scholarship
The Bryce Rockafellow Scholarship Foundation was established to honor a young employee of Elmwood Golf Course. Bryce died tragically in his sleep at the young age of 20. The Scholarship Foundation in conjunction with the financial sponsor support of the players we annually award two scholarships in his name to college bound students.
Over the 29 years, the Bryce Rockafellow Foundation has awarded 47 scholarships. Sioux Falls Golf will award two scholarships, one to a female and a male, to be given out in the fall. Please print and fill out the information on the form below for 2021 selections.
Upcoming Events
---
None of this would have been possible without the support of our local partners!
Click below to learn more about how their business can help you.